Benadryl, also known as generic diphenhydramine, is one of the few over-the-counter medicines that veterinarians usually manage at home. Veterinarians often use Benadryl on dogs to treat allergies, travel anxiety and motion sickness.
Uses:
Benadryl is a trading name for a drug consisting of diphenhydramine.
Usually, this medicine and other drugs like Claratin or Actifed are often used to relieve the symptoms of allergic rhinitis in humans. These drugs are only for human use. However, the characteristics of diphenhydramine make it also a prescription drug for veterinarians who are often allergic to dogs.
It can also be used in many other situations:
As a sedative

Control animal vomiting.

Effectively prevent dizziness.

Treating urticaria in dogs
Veterinarians are very important when deciding whether they can take Benadryl and decide if they can take Benadryl. We should always monitor and control our dogs when taking Benadryl and never exceed the recommended dosage.
It should be noted that this drug has a sedative effect. It is not recommended for animals with multiple works uses, such as rescuing dogs or performing activities that require extensive exercise.
Dosage:
We must keep in mind that dogs are not humans, so their doses may differ from ours. Generally, they depend on the age and weight of the dog. It is not recommended to feed Benadryl to puppies.
Generally, for our dogs, the recommended dose of Benadryl is 0.4-0.8 mg per kilogram of animal body weight. This means that if the animal weighs 10 kg. The recommended dose is 12.5 to 25 mg. You can give up to 2 or 3 times a day. If symptoms persist, every 8 or 12 hours. You should note that these data are general and the dosage depends on each situation. Most importantly, these data help to understand the dosages we should not overcome, but in any case, the veterinarian must decide.
It's best to give the pill to a dog by mixing it directly with food or even coating it with an animal-like flavor.
Of course, you must follow your veterinarian's advice. We must pay attention to the exact dose and do not inject the dog more than the recommended dose. Although we don't think it has all the expected results.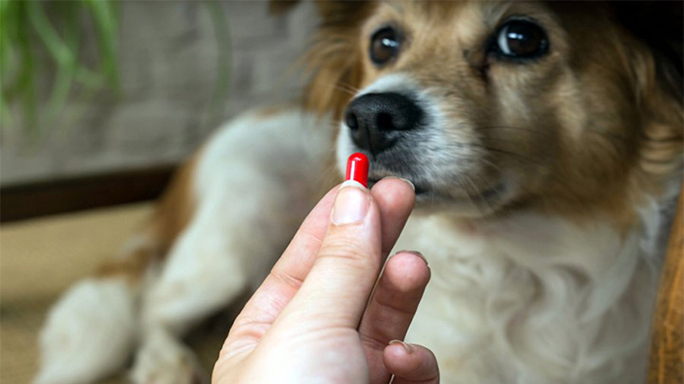 Side Effects:
If administered correctly, Benadryl's possible side effects are usually minimal. In some cases, more pronounced drowsiness can be observed. Since it is an antihistamine, it has an inhibitory effect on the central nervous system. As you adapt to your dog, the effects of the drug on your dog may decrease.
Other side effects that can be observed include diarrhea, loss of appetite, mood swings or dry mouth in dogs, and continued drinking.
However, you should also be aware that there are other risk factors that increase the likelihood and severity of these side effects. E.g.:
Give this drug to dogs allergic to diphenhydramine.

Use it in animals that are taking other drugs.

Use Benadryl for dogs that are pathologically incompatible with drugs, such as heart, lung or stomach disorders. Dogs with glaucoma or hypertension.

On the other hand, the biggest risk factor is the owner himself, who sometimes doses the animal himself and thinks we are helping it. Excessive animal exposure to the drug can exacerbate side effects and even cause serious reactions.

Therefore, we will always repeat that you must first give it to the veterinarian and ask the veterinarian before taking any new medicine or new food.