HELLO,MY NAME IS FOSTER A BOXER!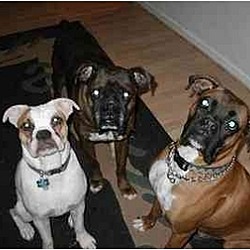 Ask About Me
02

MY INFO

N/A
03

My Story

  The dogs shown in this picture are not up for adoption. They are part of the Rockin' P Rescue program. Can you believe that they were found at one of the high-kill shelters?! They were rescued and lived in foster homes until we could find a new family for them. We are in desperate need of quality families in the AL/GA area to temporarily care for boxers waiting for their forever homes. Currently, we are having to turn dogs away from our program because we have nowhere for them to go. This could ultimately mean these dogs will be put to sleep. Fostering a boxer is a truly rewarding experience - please open your door, and your heart, to a boxer in need. If you cannot foster and have a large crate you'd like to donate, please let us know! We can use it to save a life! Send an e-mail to

[email protected]

for more info.Not ready to adopt me?  How would you like to be my sponsor?!  Our medical bills are at an all-time high and even a $5 donation can help take some of my cousins off the street, treat their wounds and heal their hearts.  Please think about a tax-deductible donation today!
DISCLAIMER
we focus on collection and serving best dog sales information to our users, we do not directly sell pet or dogs to users, all transactions will redirect to dog rescue organization or e-commerce websites.we will not be responsible for all customer service and trade dispute.
FIND MORE DOGS FOR YOU