HELLO,MY NAME IS ASHLEY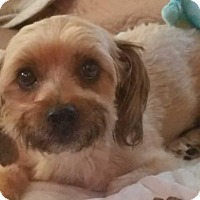 Ask About Me
02

MY INFO

N/A
03

My Story

You can fill out an adoption application online on our official website.

ASHLEY: Poodle, Terrier Mix / Spayed Female / 3 Years / 12 PoundsHOUSE TRAINED, BRIGHTEST, PEACEFUL, PLAYFUL!

Small in size, this pooch will be ready to go where ever you go! She is sweet and playful. Ashley walks well on a leash and loves to ride in a car. She gets along with all dogs, adults and children. Ashley will make a wonderful companion. Also you can also see Cindy Ashley`s Puppy in the last picture which is also availabel for adoption. Ashley really needs a forever home! Come see her! She is hoping you will. In the canine heart, there is always hope. Every dog deserves a safe and loving home. Adopt a rescue dog today; we are their voice! If you think you might be able to offer a great home for Ashley, please contact Reyna.

Email:[email protected] Ph: 323 383-8883 http://www.miracledogrescue.org

We are a 501.c non-profit organization dedicated to rescue dogs from Southern California. All your donations are tax deductible.

Visit this organization`s web site to see any additional information available about this pet.
DISCLAIMER
we focus on collection and serving best dog sales information to our users, we do not directly sell pet or dogs to users, all transactions will redirect to dog rescue organization or e-commerce websites.we will not be responsible for all customer service and trade dispute.
FIND MORE DOGS FOR YOU